Old City Publishing is pleased to announce the publication of Elizabeth Hope Cushing's Beauty, Efficiency, and Economy: A Life of Frederick Law Olmsted Jr., Landscape Architect, Planner, and Conservationist.
The hardcover book, containing 93 illustrations over 214 pages, examines the life of Frederick Law Olmsted Jr. (1870-1957), son of the giant of American landscape architecture, Frederick Law Olmsted. (1833-1903).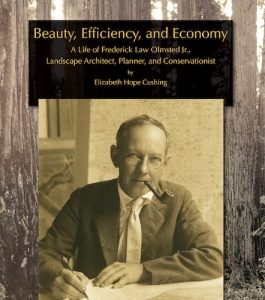 Preordained to landscape architecture by his famous father, Olmsted Jr. proved a talented professional in his own right; outstanding enough to make a significant mark through innovative and creative work in city and community planning, in park work, and through his life-long advocacy for land preservation and conservation. For too long the fact that he shared his name with one of the most prominent figures in the practice of landscape design in America has obscured his major contributions to the field. It is hoped that this overview of his life and aspects of his professional career will contribute to the remediation of that fact, and continue the establishment of his place in American landscape history.
Author Elizabeth Hope Cushing is a practicing landscape historian, the author of The Lynn Album, a Pictorial History, and Arthur A. Shurcliff, Design Preservation, and the Creation of the Colonial Williamsburg Landscape. She is co-author of Community by Design, The Olmsted Firm and the Development of Brookline, Massachusetts; and editor of No Race of Imitators: Lynn and Her People, An Anthology. She has contributed articles to various journals, magazines, and books. Her cultural landscape history reports include work for the National Park Service; for the Massachusetts Department of Environmental Management's restoration of Olmsted parks in Massachusetts; for Endicott House, the MIT Conference Center in Dedham, Massachusetts; for restoration work on the Charles River Esplanade, Boston, Massachusetts, and for the Taft Art Museum in Cincinnati, Ohio.
To purchase Beauty, Efficiency, and Economy with free shipping in the United States, visit the book's page in our online store.
214 pages + 93 illustrations  •  ISBN: ISBN: 978-1-933153-39-1  •  $85.00  •  hardcover