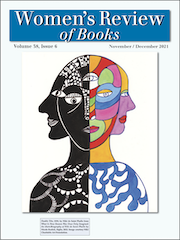 WRB Home · Issue Contents · Editorial Board
Contributor Notes · Recommend · Subscription Info
WRB Ad Rates · WRB Advertising Contact
Wellesley Centers for Women
Women's Review of Books does not accept unsolicited articles.
If you would like to be considered for reviewing assignments, please send your resume, samples of published reviews, and a cover letter about your areas of interest and expertise to:
Jennifer Baumgardner
Women's Review of Books
628 North Second Street
Philadelphia, PA 19123
USA
email
A few things to note:
Most Women's Review of Books writers are experienced reviewers with expertise in their fields who can write review-essays that are lively, thought-provoking, and accessible to a broad audience of interested readers—and who can do it on a deadline. We welcome new ideas, expertise, and creativity; we discourage jargon. Readers may have to struggle with your ideas—but not with your sentences.
Women's Review of Books has high standards but does not pay very well: we give a $100 honorarium to tenured faculty members; everyone else gets 14 cents per published word.
Women's Review of Books welcomes suggestions of books to review (and feedback of all kinds, actually).
Women's Review of Books does not assign book reviews to friends, relatives, enemies, colleagues, or blurbers of the book author.
Poetry Submission Guidelines
Because we have a backlog of accepted poetry, Women's Review of Books will not be at present considering poetry. Please check the website for information about the next poetry deadline.
No electronic submissions, please.
If you would like your poems returned, enclose a self-addressed, stamped envelope of appropriate size and with sufficient postage.
Please note that Women's Review of Books generally publishes a pair of poems by one featured poet in each issue. You may submit up to three pairs of poems for consideration.
Submitting your Book for Review
Women's Review of Books reviews women's studies scholarship and fiction, poetry, and memoir by women. We welcome review copies and consider all the books submitted to us carefully. We review more nonfiction than anything else. There are far more wonderful books out there than we can hope to cover; our reviewing decisions are based on a combination of factors including the quality of the books; the balance of articles in each issue (we strive to review a diverse array of books in many fields, genres, and styles); and the interests of our readers and reviewers.
Please note that we generally do not review the following: genre fiction; self-help books; inspirational autobiographies; self-published fiction, poetry or memoir; poetry chapbooks; scholarly or literary magazines; reference books; textbooks; children's or young adult books; fiction or poetry by men. Save your review copies of these kinds of books for more appropriate publications.
If you are unsure whether Women's Review of Books would be interested in considering your book or have other questions, please feel free to contact Jennifer Baumgardner, editor-in-chief.