Note: The next issue of Women's Review of Books is delayed due to editorial transition. Volume 39, Issue 1 will be published after that process is completed.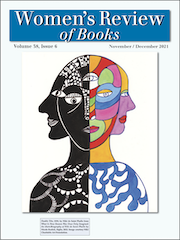 WRB Home · Issue Contents · Editorial Board
Contributor Notes · Recommend · Subscription Info
WRB Ad Rates · WRB Advertising Contact
Wellesley Centers for Women

Women's Review of Books
Editor-in-Chief: Jennifer Baumgardner
ISSN: 0738-1433 (print)
ISSN: 1949-0410 (online)
32 pages/issue · 10.5″ x 14″
Issue Coverage: Volume 23 (2006) – Present
To access the contents of Women's Review of Books, click on the desired issue from the listings below to view the issue's table of contents. Click on the "Full Text (IP)" link at the top of the table of contents to view a PDF copy of the desired issue. Full-text copies may be viewed by institutional subscribers only via IP address authentication.